TOMOON Wang Wei: Experience to share
Jul 18, 2014 6:34:43 PM
Yesterday the founder of Smart watch, Wang Wei was invited by 12th Floor Weifenxiang to share his experience of starting his business.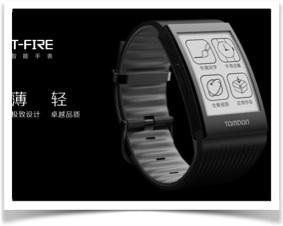 1. the light spots of product
I personally think that there is one light spot, which is more suitable for beginners. Wholesomeness is quite hard for a team. Yeah, but direction cannot go wrong. If direction is correct, execution can thus be correct. There is no need to fear of making mistakes. (For TOMOON products) if a color screen Smart watch has been produced, it will be difficult for me to make other types of products. It should be one of the light spots.
2. core competitiveness
My opinions include, first, I understand telecommunication technology; second, I have passion and inspiration about electronic products; third, I like doing research, I never give up, I insist my dream no matter what difficulties there will be. I will keep going. Besides, the teammates who have been following me, a group of charming people, they could work four overnights a week, and still carry on without any pay for three consecutive months.
3. marketing
Market positioning relies on media and circle of friends. I was shocked by the result then. WeChat has been maxed out, we have high frequency of Subscription Account and high arrival rate of Service Accounts. Service Accounts tends to more popular because the effect of Subscription Account has not been satisfactory.
We currently have not got the ability to choose our customers, and there is no need to choose. Most of our current friends are the renowned experts in the area. Contents do matter, good products are more important. Pictures, patterns, we don't make them pushy, we could either tell our friends in private, and our friends are also willing to help. To tell you the truth, we are in good relationship with our friends and we control our speed, we don't bother them. This is just like making friends, figure it out yourselves.
4. team
We have 6,7 people in our appearance design team. Circuit layout design 5 people, software 20, three departments, craftwork, quality control, supply chain 7 or 8. And other departments: marketing, operation. And we are still recruiting. Please email me if you know some talented. (wangwei@tomoon.cn).
Partners are also introduced by friends. The managing team basically constitute by engineers and those who work hard. I don't like airborne. For those who have been working with me for so many years, I know their characteristics, personalities, and huge potential. Let them take time and they all got opportunities. My interviews are always unusual, I would focus on people's attitude, moral. Attitude is also on the top.
5. What type of company to be
I really want it to be a small and beautiful company, like Apple insists on its design, like Google is keen on creative, free, and craftsmanship to make their products and the company. (As for production line), this is a bit sensitive. We will focus on the Smart watches for quite a long time.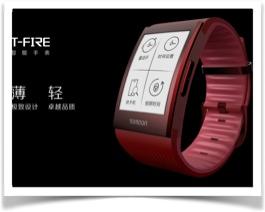 6. The prospects of wearable products
The rigid demand can actually be cultivated, the wearable electronic products will provide a unprecedented interactive experience. Cell phones fail to achieve. For instance, the popular smart home, I don't think being smart refers to the way you could do the remote control. Machines are smarter than human beings. The wearables have an advantage in the data collection. We are now developing APPs for the body sense and voice control. There are so many application contexts, such as swinging my arm to hung up the phone, raise up my hand to answer a phone, using voice to control our household electrical appliances. To be healthy is an important application for wearables. We are working on these areas.
7. Success in presell
I assume it is due to the favorable climate, geographical position and support of people. Favorable climate: the release of Samsung Gear; Geographical position: WeChat, such a good platform; Support of people: circle of contacts. I and my partners write all the official documents and correspondence.
8. Formal sales
Actually we have not yet lunch our sales campaigns. Everyone knows that we have lots of products have not been delivered. The 20 thousands watches ordered through Circle of Friends have not been delivered yet. We are in the stage of developing our products. If everything goes all right, we could go online in the mid or late March. The software and hardware will changed greatly at that time.
Subscription Account